Sparks Flew Development Studio also runs Draw for Life, a programme teaching the principles of drawing for animation to underprivileged teens in Cape Town, in partnership with PASCAP Trust, The Animation School, Animation SA and Triggerfish.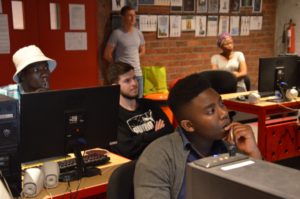 Sparks Flew established Draw for Life in 2016 to try and do our part to address the need for transformation within the animation industry. Each year we choose a small group of talented teens from a pool of submissions and for ten weeks, we host weekly classes covering the basics of figure drawing, character design and digital drawing, taught by a variety of outstanding professionals. Our students go on to Digital Canvas Academy's introductory course in digital drawing over the December break, and from there, two are chosen for a work-shadowing experience at Triggerfish. Three of our alums have gone on to study animation: two at False Bay Academy in Muizenberg with the generous aid of MICT Seta, and one at The Animation School with the generous aid of Animate Africa and The Animation School.
If you'd be interested in collaborating or offering support to Draw for Life, please contact us.